Like many illustrators, I loved drawing and painting all throughout my childhood. I went on to study art and art history at Tufts University, the School of the Museum of Fine Arts Boston, and the University of Melbourne in Australia.
When I graduated from college, I began a career as a web/graphic designer, and I still enjoy working in the field today! One of my websites, Animal Fact Guide, was named a "Great Website for Kids" by the American Library Association. Did you know that wombats' poop is cube-shaped? You do now! (And no, you'll never un-know that.)
But throughout that time, my dream of creating picture books persisted. So when a funny story idea wouldn't leave me alone, I decided to make storytelling a priority. And I've been happily dreaming up characters and storylines ever since.
I live in a small Connecticut beach town with my husband and two children. When I'm not working, I can be found running, playing tennis, and eating nachos. (Yes, at the same time.)
I am represented by BookStop Literary Agency and am an active member of SCBWI.
Come find me on Twitter or Instagram and say hi!
---
Awards
I am honored to have received the PEN New England Susan P. Bloom Discovery Award and the Tassy Walden New Voices in Children's Literature Award for my stories. These awards are judged by industry professionals and recognize emerging writers and writer/illustrators.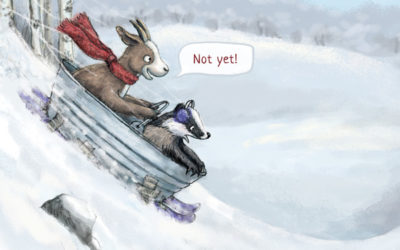 SNOW DAY FOR GOAT AND BADGER
As yet unpublished picture book
On a wonderful snowy day, Goat can't wait to surprise Badger with his homemade sled built for two. But Badger isn't sure it's safe. Fortunately, Goat knows just the way to convince his nervous friend to give it a try. He doesn't want Badger to miss out on all the fun. But after a topsy turvy sledding adventure, Goat soon learns that what's fun for him is scary for Badger and must find a way to make things right with his friend.
"SNOW DAY FOR GOAT AND BADGER had a wonderful sense of humor and a real understanding of the relationship that kids have when they teeter back and forth between fun and fear."

~ Tassy Walden Judge
---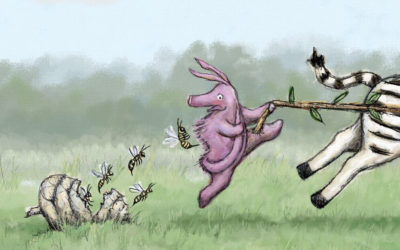 AARDVARK & ZEBRA STAR IN YET ANOTHER ALPHABET BOOK
As yet unpublished picture book
Aardvark, an alphabet book celebrity, is eager to show off his new poses on the A page of this new alphabet book. But when Aardvark discovers A is for aardwolf (aardWOLF??), he questions where he fits in to the book (or if he even fits in at all anymore). Encouraged by his optimistic friend Zebra, Aardvark embarks on a zany journey to find his new place.
"I liked that this alphabet book is one long narrative that plays with storytelling in a smart and engaging way."

~ Tassy Walden Judge
---
Around the Web
Illustrator Sunday: Abi Cushman
August 27, 2017, Kathy Temean's Writing & Illustrating Blog
A critique by Houghton Mifflin Harcourt Associate Art Director Sharismar Rodriguez
"Right off the bat I want to say that this was a great selection of pieces, I can envision a variety of scenarios for this adventurous bunny. This combination has a few themes that are timeless and precious: having dreams, parent-child relationship, it has some fantasy elements, overall really cohesive.

"…these pieces are filled with magic and I'll encourage you to continue developing this story, if you haven't done so yet."

~ Sharismar Rodriguez, Associate Art Director at Houghton Mifflin Harcourt BFYR